Must-sees in the Millevaches Regional Park and the Corrèze department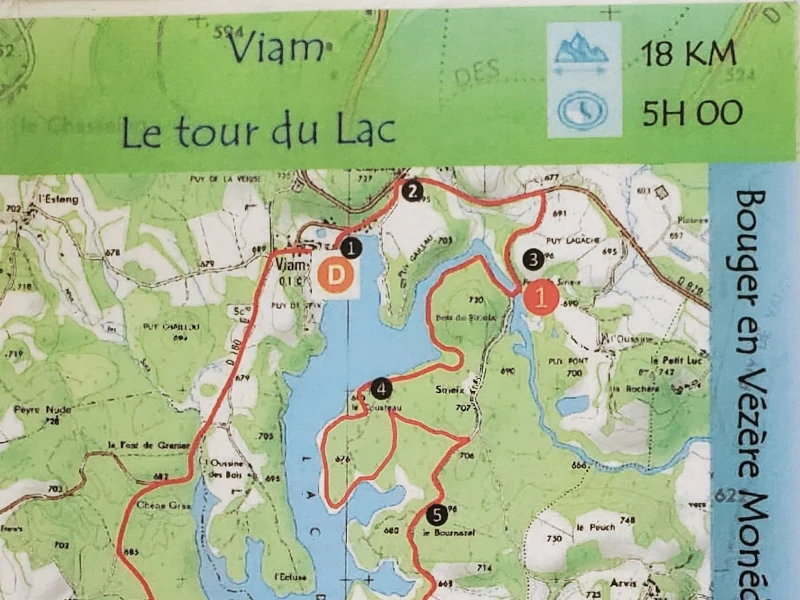 Eating near the campsite

Les Cars Gallo-Roman ruins
Site Gallo-Roman des Cars is one of the best Gallo-Roman archaeological sites of Limousin..
Between moors and forests, on the Plateau de Millevaches, granite blocks tell us a 2000 years old story!
The Gallo-Romans came to settle in Haute-Corrèze in the 2nd century A.D. But who were they? How did they live here?
Clues are hidden in the thousand-year-old stones : the plan of a villa, enormous bath-tub, large mausoleums... Your imagination runs wild, your archaeologist's soul awakens!
This site was rediscovered by Marius Vazeilles in the early 20th century.
You can see archaeological pieces at Marius Vazeilles Archaeology and Heritage museum in Meymac : smallshop, bar with terrace with the Association du Bac des Cars
The site is open all year round for self-guided tours.
Throughout the summer (from 1 July to 31 August), free guided tours are offered, a bar with terrace to have a drink, a small shop where you can buy local products, a reception where you can get advice on the surrounding tourist sites, family games on the Gallo-Roman theme.
The Millevaches Regional Nature Park
Located on the watershed of the Adour-Garonne and Loire-Bretagne basins, the Regional Natural Park has thousands of springs and rivers (Vézère, Creuse, Corrèze, Vienne...) and is home to peat bogs, moors, forests and meadows.
The Longeyroux peat bog, 15 km northwest of Meymac, is an exceptional reservoir of biodiversity.
The Millevaches Regional Natural Park is home to unique fauna and flora: otters, pearl mussels, wetland azure, linnet, white-tailed eagle, viviparous lizard, etc.
It is also a staging area for migratory birds. There are 12 species of birds; red-backed shrike, European nightjar, woodlark, grey crane, etc.
The flora offers great diversity: heather moorland, sphagnum moss or drosera..and much more.
A dense woodland with deciduous and coniferous trees that creates a heterogeneous landscape. An astonishing and unmissable discovery.
Mont Bessou interpretive trails
Starting from the Mont Bessou summit
Signposting: panels
Two essential natural elements of Haute-Corrèze: granit and mushrooms.
Randoland, a tour for children to discover the secrets of Mont Bessou solving riddles is available in the nearby tourist offices.
Tourbière du Longeyroux
The 250 ha Longeyroux peat bog is located in Meymac, Saint-Merd les Oussines and Chavanac, at 900 m above the sea level. Many streams that cross it give rise to the Vézère river.
Its size, the diversity of its flora and fauna and its unusual landscapes, make the Longeyroux peat bog one of the Plateau de Millevaches's nature treasures.
1 km educational trail, "le Sentier des Linaigrettes" and a 9km trail, "le Sentier de la Bruyère", to discover this environment where many otters live.
A booklet about the "sentier de la bruyère" marked path is available at the Tourist Offices of Meymac and Bugeat for one euro.
Cascade de la Tine
A path leads you to the small Tine waterfall named after a certain Martine...
The story says that the Lord of Vernéjoux fell in love with this young girl who used to live near the water, but Martine finally chose a modest carpenter.
Straight away, The jealous lord made a pact with the devil.
One day, Martine slipped on the wet rocks and drowned in the Tine waterfall!
Free access to the 5km interpretive and marked path starting from the town. (guide available at the tourist office).
Saut de la Virole
After criss-crossing the peat bogs of the Plateau de Millevaches, the Vézère river passes through the granite blocks before falling several meters.
You go to this charming waterfall by a small path starting from Coissac hamlet in the commune of Lestards.
Tréphy equestrian property
Welcome to the heart of the Monédières, in the Millevaches Regional Natural Park.
I am expert in ethology, western and ethological ridings.
I offer all-level activities for all ages, in order to initiate or to improve.
I organise all year round pony and horse activities upon reservation.
Ethology, Western and ethological riding courses and training courses (introduction or improvement)
Horseback riding and ecotourism horse rides in the Massif des Monédières, I introduce you to my ethological and western approach.
Hand-held pony for children and ethological approach (private lesson)
I also welcome people with their own horses.
I advise you on riding routes.
My horse farm is located in a valley in the heart of the Massif des Monédières, in the Millevaches natural park.
Open all year round, booking required.
Supervision by an experienced ethology instructor.
AUBERGE DU MONT-CHAUVET
Family-friendly inn with terrace and traditional cuisine.
Grills on order.
Open all year round
Closed on Wednesday afternoon after lunch service.
During the week, workers lunch menu.
Birthday meals, meetings, hikers group... on order.
CHEZ SANDRA
From Monday to Friday , a single menu for lunch at 13.50€ : starter, main course, cheese, dessert, 1/4 or ½ wine and 1 coffee.
Big salads and stuffed "tourtous" in the evening Weekends, 2-course menu (your choice).
The bar is open all day and sells ice cream.
Bulk grocery shop opens open every day in July and August (except Monday evening).
Closed on Sunday out of season.